Washington D.C. (Kensington,  Maryland ) – Within the suburbs of Kensington, Maryland, the Washington D.C. Temple is a landmark that can not be missed. Made of Alabama marble, the Washington D.C. Temple earns its right as the tallest Latter-Day Saint temple in the world at 288ft tall (88 meters). It is the first temple to be located on the east coast of the United States since the Nauvoo temple, and it is the 16th operating temple in the world. The golden spires shine as an inspiration to many.
Take a guided tour of the Washington D.C. Temple with one of our friendly volunteers. On the tour, you'll be guided through interactive displays, get an inside look at the history of the Washington D.C. Temple, and have an amazing experience with Thorvaldsen's Cristo. All tours are hosted by the Washington D.C. Temple Visitors' Center.
* Observe que esses passeios não levam você ao templo real. Muitos centros de visitantes de templos têm réplicas de modelos do templo que usarão para mostrar o interior do templo.
Selecione uma data e hora para o seu tour virtual gratuito.
Ao participar de um tour físico ou virtual, você será saudado por um de nossos simpáticos voluntários. A partir daí, você começará seu tour. Certifique-se de mencionar qualquer coisa que você esteja interessado em ver ou perguntas que você tenha. Nossos voluntários são amigáveis e prestativos.
Aprender sobre Jesus Cristo Plano de Deus Templos o Livro de Mórmon Genealogia
Depois de conhecer os voluntários que o levarão em seu tour, eles o farão começar a ver as coisas em que está interessado.
História do Templo de Washington DC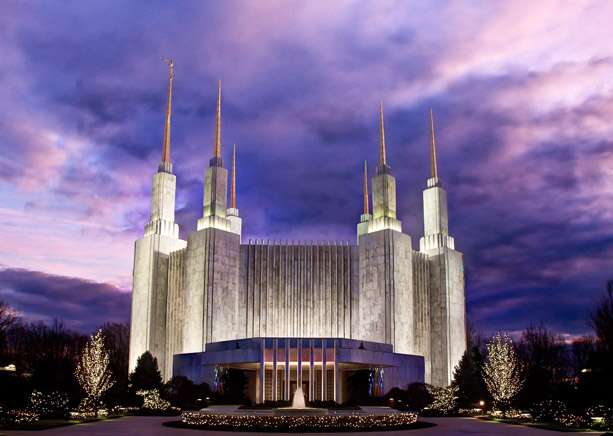 Just ten miles from the United States Capitol, the Washington D.C. Temple is the tallest temple built. It is also one of the only five temples to have a statue of the Angel Moroni holding the golden plates and his trumpet. The white Alabama marble with which it was built is a symbol of purity. The temple also features stained glass windows near its ending towers and golden spires. The D.C. Temple during Christmas time is beautiful and features a Festival of Lights with nightly concerts, and nativity scenes. The temple also has a free shuttle for patrons and visitors to travel between the temple and the metro.