Idaho Falls, Idaho – On the banks of the rushing Snake River, the Idaho Falls Temple is a landmark for all. The temple resides in the core of Idaho Falls and it is the first temple to feature a central spire. It is a more historic temple and was in construction during World War Two, which delayed its completion. Since then the temple has faced several renovations. Idaho Falls is the eighth dedicated temple and the first one in Idaho. The temple is a symbol of peace and hope to everyone that passes by.
Take a guided tour of the Idaho Falls Temple with one of our friendly volunteers. On the tour, you'll be guided through interactive displays, get an inside look at the history of the Idaho Falls Temple, and have an amazing experience with Thorvaldsen's Christus. All tours are hosted by the Idaho Falls Temple Visitors' Center.
*Please note that these tours do not take you into the actual temple. Many temple visitors' centers have model replicas of the temple that they'll use to show the interior of the temple.
Select a time and date for your free virtual tour.
When you join a physical or virtual tour, you'll be greeted by one of our friendly volunteers. From there, you'll start your tour. Make sure to mention anything that you're interested in seeing or questions that you have. Our volunteers are friendly and helpful.
Learn About Jesus Christ God's Plan Temples the Book of Mormon Genealogy
After you've met the volunteers that will take you on your tour, they'll get you started to see the things you're interested in.
History of the Idaho Falls Temple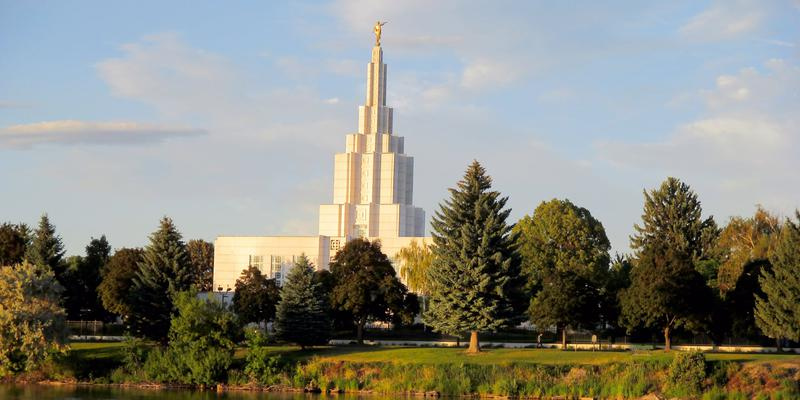 The Idaho Falls Temple was the first temple to be built in the state and sits nearby a prominent waterfall feature for which the temple is named. The temple itself was constructed from reinforced concrete and was dedicated in October of 1940. The grounds initially included a number of reflection ponds that housed smaller fish as well as water lilies; however, these ponds were changed into flower beds. This temple was actually the first temple to include a central spire in its design and while digging for the foundation, lava rock was discovered beneath which made for an ideal foundation for the basement.