Washington D.C. (Kensington,  Maryland ) – Within the suburbs of Kensington, Maryland, the Washington D.C. Temple is a landmark that can not be missed. Made of Alabama marble, the Washington D.C. Temple earns its right as the tallest Latter-Day Saint temple in the world at 288ft tall (88 meters). It is the first temple to be located on the east coast of the United States since the Nauvoo temple, and it is the 16th operating temple in the world. The golden spires shine as an inspiration to many.
Take a guided tour of the Washington D.C. Temple with one of our friendly volunteers. On the tour, you'll be guided through interactive displays, get an inside look at the history of the Washington D.C. Temple, and have an amazing experience with Thorvaldsen's Christus. All tours are hosted by the Washington D.C. Temple Visitors' Center.
*Please note that these tours do not take you into the actual temple. Many temple visitors' centers have model replicas of the temple that they'll use to show the interior of the temple.
Select a date and time for your free virtual tour.
When you join a physical or virtual tour, you'll be greeted by one of our friendly volunteers. From there, you'll start your tour. Make sure to mention anything that you're interested in seeing or questions that you have. Our volunteers are friendly and helpful.
Learn About Jesus Christ God's Plan Temples the Book of Mormon Genealogy
After you've met the volunteers that will take you on your tour, they'll get you started to see the things you're interested in.
History of the Washington D.C. Temple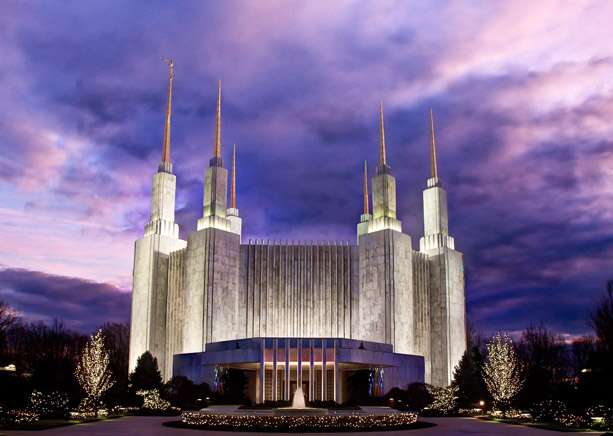 Just ten miles from the United States Capitol, the Washington D.C. Temple is the tallest temple built. It is also one of the only five temples to have a statue of the Angel Moroni holding the golden plates and his trumpet. The white Alabama marble with which it was built is a symbol of purity. The temple also features stained glass windows near its ending towers and golden spires. The D.C. Temple during Christmas time is beautiful and features a Festival of Lights with nightly concerts, and nativity scenes. The temple also has a free shuttle for patrons and visitors to travel between the temple and the metro.