Portland Oregon – Within the City of Roses, the Portland Temple blossoms with beautiful vegetation. The temple stands 181 feet tall among Oregon's famous Douglass Fir trees. It has serine gardens that are carefully tended for. The temple has six spires that reach high into the sky, and the exterior is built with a gleaming white Vermont marble. The Portland Temple is the 42 dedicated temple and the first one in Oregon. It continues to inspire people with its peaceful architecture and gardens today.
Take a guided tour of the Portland Temple with one of our friendly volunteers. On the tour, you'll be guided through interactive displays, get an inside look at the history of the Portland Temple, and have an amazing experience with Thorvaldsen's Christus. All tours are hosted by the Portland Temple Visitors' Center.
*Please note that these tours do not take you into the actual temple. Many temple visitors' centers have model replicas of the temple that they'll use to show the interior of the temple.
Select a date and time for your free virtual tour.
When you join a physical or virtual tour, you'll be greeted by one of our friendly volunteers. From there, you'll start your tour. Make sure to mention anything that you're interested in seeing or questions that you have. Our volunteers are friendly and helpful.
Learn About Jesus Christ God's Plan Temples the Book of Mormon Genealogy
After you've met the volunteers that will take you on your tour, they'll get you started to see the things you're interested in.
History of the Portland Temple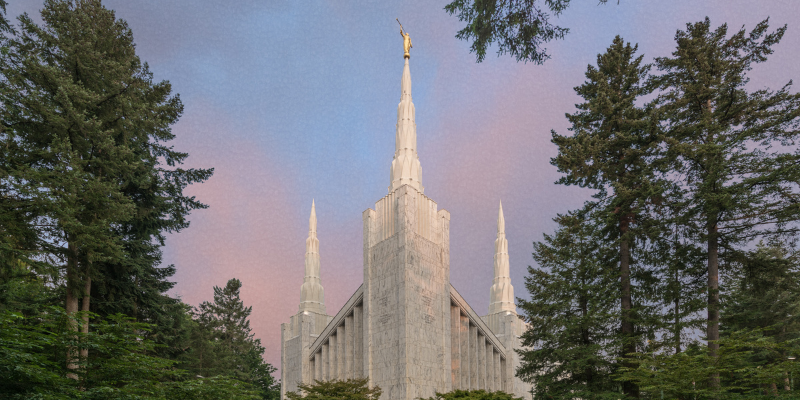 The Portland Oregon Temple has six spires and four domes and was constructed with white Vermont marble. The floorplan for this temple was adapted from the Las Vegas, Nevada Temple. It was the first temple built in Oregon. The land the temple sits on was originally bought for a junior college the Church wanted to build and is only eight miles south from downtown and hosts an infinity pool with a fountain. The Portland Oregon Temple is also one of the temples to have a reproduction of Thorvaldsen's Christus.