Saint George, Utah – Contrasting the bright red rocks of southern Utah, the Saint George Temple shines with a pearly white for many to see. The temple is a historically renowned building, built and completed by pioneer settlers in 1877. It is the longest operating temple and the first one built in Utah. It was originally built on top of a swamp and the foundation was laid by blasting volcanic rock into the soil using a canon. This historical structure connects many Latter-Day Saints to their pioneer heritage.
Take a guided tour of the Saint George Temple with one of our friendly volunteers. On the tour, you'll be guided through interactive displays, get an inside look at the history of the Saint George Temple, and have an amazing experience with Thorvaldsen's Christus. All tours are hosted by the Saint George Temple Visitors' Center.
*Please note that these tours do not take you into the actual temple. Many temple visitors' centers have model replicas of the temple that they'll use to show the interior of the temple.
When you join a physical or virtual tour, you'll be greeted by one of our friendly volunteers. From there, you'll start your tour. Make sure to mention anything that you're interested in seeing or questions that you have. Our volunteers are friendly and helpful.
Learn About Jesus Christ God's Plan Temples the Book of Mormon Genealogy
After you've met the volunteers that will take you on your tour, they'll get you started to see the things you're interested in.
History of the Saint George Temple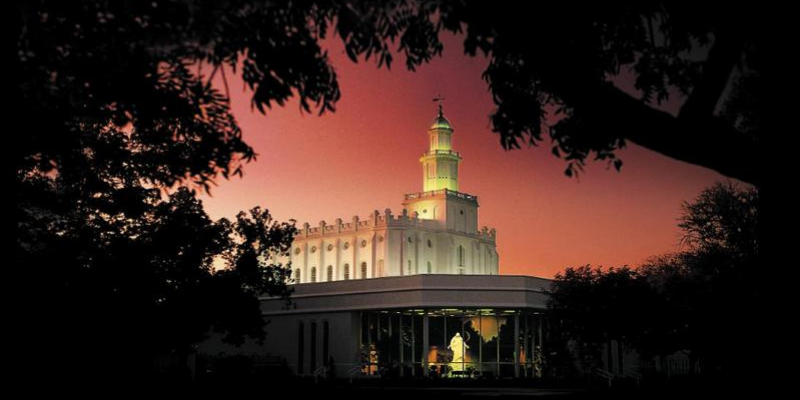 The St. George Utah Temple is made of local red sandstone and white plaster in contrast to the red sandstone rock surrounding the area. The St. George Temple is also the first temple to be built in Utah. About a year after its first dedication, the initial tower of the temple was struck by lightning, causing significant damage and a new tower had to be constructed. Before the construction of the Mesa Arizona Temple, Arizona church members had to travel to the St. George Temple. It was initially considered to follow the designs of the Kirtland Ohio Temple and the Nauvoo Temple. Before the Mesa Arizona Temple was constructed, the members in Arizona had to travel to the St. George Temple and the road between Arizona and St. George became referred to as the Honeymoon Trail because of all the bridal parties that traveled the road.