São Paulo, Brazil – Within the crowded Brazilian city, the São Paulo Temple welcomes all to tour its grounds. The temple is of great value to the Brazilian Saints. Before its construction in 1978, members of the Church would have to travel all the way to Washington D.C. in the United States to receive their temple blessings. Now local transport makes the journey to the temple rather simple because locals can reach the it within a manner of minutes. It is the seventeenth dedicated temple and the first one in South America. This temple was the first of many to connect South American Saints to God.
Take a guided tour of São Paulo Temple with one of our friendly volunteers. On the tour, you'll be guided through interactive displays, get an inside look at the history of the São Paulo Temple, and have an amazing experience with Thorvaldsen's Christus. All tours are hosted by the São Paulo Temple Visitors' Center.
*Please note that these tours do not take you into the actual temple. Many temple visitors' centers have model replicas of the temple that they'll use to show the interior of the temple.
Select a date and time for your free virtual tour.
When you join a physical or virtual tour, you'll be greeted by one of our friendly volunteers. From there, you'll start your tour. Make sure to mention anything that you're interested in seeing or questions that you have. Our volunteers are friendly and helpful.
Learn About Jesus Christ God's Plan Temples the Book of Mormon Genealogy
After you've met the volunteers that will take you on your tour, they'll get you started to see the things you're interested in.
History of the São Paulo Temple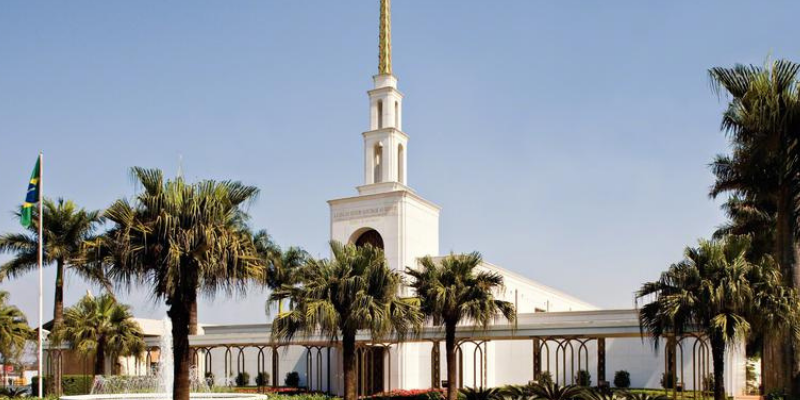 The São Paulo Temple was the first temple built in South America, and it stands in one of the largest cities. The temples' grounds feature a beautiful water fountain and numerous colorful flower beds. Before its construction, the nearest temple to the members in São Paulo was the Washington D.C temple. Due to this, the members made many sacrifices of time and money to help with the building of the temple. At the beginning, there were only 54,000 church members in the entire country, the number of members today has risen to more than 1,300,000.