Salt Lake City, Utah – As the crowning jewel of Utah, the Salt Lake City Temple stands firmly in the Rocky Mountains for all to see. It was the first dedicated temple to start construction and took 40 years to complete. The temple is one of the most iconic buildings in the western United States. It is the 4th dedicated temple, and the first to host an Angel Moroni statue. The temple is a historic icon that connects Utah residence with their pioneer background.
Take a guided tour of the Salt Lake Temple with one of our friendly volunteers. On the tour, you'll be guided through interactive displays, get an inside look at the history of the Salt Lake Temple, and have an amazing experience with Thorvaldsen's Christus. All tours are hosted by the Salt Lake Temple Visitors' Center.
*Please note that these tours do not take you into the actual temple. Many temple visitors' centers have model replicas of the temple that they'll use to show the interior of the temple.
Select a date and time for your free virtual tour.
When you join a physical or virtual tour, you'll be greeted by one of our friendly volunteers. From there, you'll start your tour. Make sure to mention anything that you're interested in seeing or questions that you have. Our volunteers are friendly and helpful.
Learn About Jesus Christ God's Plan Temples the Book of Mormon Genealogy
After you've met the volunteers that will take you on your tour, they'll get you started to see the things you're interested in.
History of the Salt Lake Temple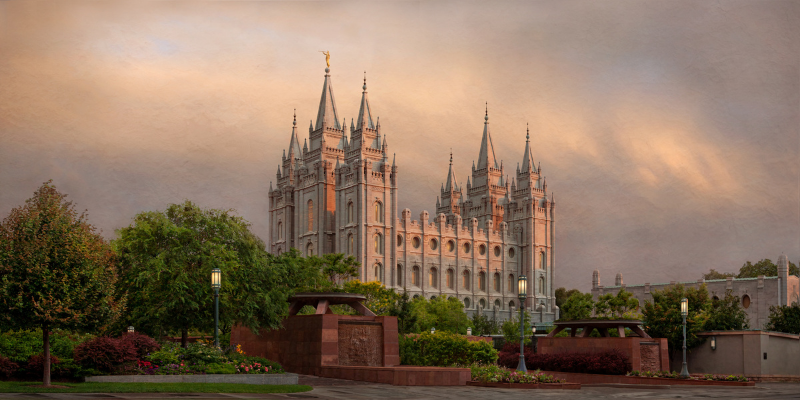 The Salt Lake City Temple was announced for construction in 1847 and is located in the heart of Salt Lake City. While being one of the most well-known and recognized temples, it was, in fact, only the fourth temple to be built in Utah. However, it was the first temple to feature a statue of the angel Moroni on its spire although the original design planned for two statues. Due to its ornate design, the temple took nearly forty years to complete. The walls of the temple are roughly nine feet thick with a six feet thick foundation.